| | | | |
| --- | --- | --- | --- |
| Plan Availability | ✔ Basic | ✔ Standard | ✔ Premium |
The Individual pricing feature allows you to setup different discount prices for individual products or variants, as well as different discount prices for different customer groups
Objective: In this article we will set up separate discount prices for each selected product.

Let's go through each step one by one:
Prepare tag based Customers
1. From your Shopify admin, go to Customers and select a customer for whom you want to set up wholesale pricing.

2. In this example, let's add wholesale as a tag (outlined in the screenshot below, but you can change the tag name to whatever you want).

Setup individual Pricing at Product Level
- From your Shopify admin, go to Apps and select the "Wholesale All In One" application
- From Wholesale All In One, go to the Regular Discounts tab and Click on "Create Regular Discount" button.
- Write a title for the discount rule and select 'Save as Published' option: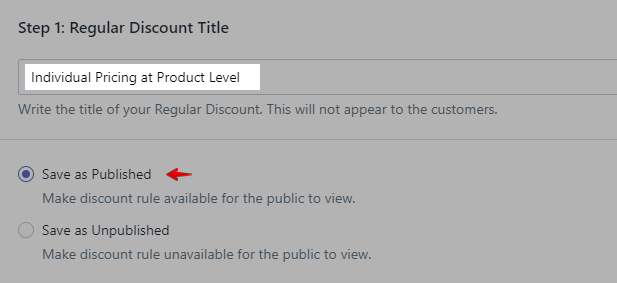 - Select the 'Specific Products' option from the 'Apply Discount To' Section:
- Select 'Set regular discount on individual product' checkbox and then add the 'wholesale' tag to apply discounted pricing only for customers tagged with 'wholesale'.
[Note: You can add more tags if you want to apply different Custom Pricing for different tagged customers]

- Click the "Add Products" button and select products for which you want to apply wholesale pricing. The selected products will appear in the table below.


- Don't Select 'Show Variants' checkbox as in this article we are applying a discount at the Product Level
- Set a discount price for each product separately in the 'wholesale' column, so only 'wholesale' tagged customers will see the discounted pricing.
- There are three discount options '% Off', 'Price Off' and 'New Price. You can Learn More.

Tutorial Result:
- Discount applied to both products, Look at the following screenshots

Product One: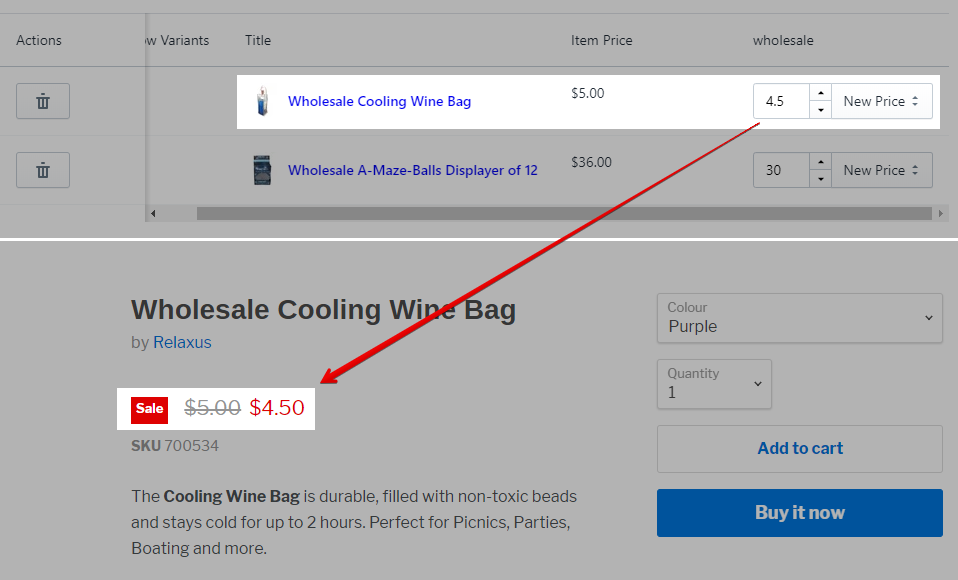 Product Two: