| | | | |
| --- | --- | --- | --- |
| Plan Availability | Basic | Standard | ✔ Premium |
The Individual pricing feature allows you to set up different 'Tiered Pricing' for individual products or variants, as well as different 'Tiered Pricing' for different customer groups
Objective: In this article we will set up separate 'Volume Discounts' also known as 'Tiered Pricing' for the selected products.

In this page:
Let's go through each step one by one:
Prepare tag based Customers
1. From your Shopify admin, go to Customers and select a customer for whom you want to set up wholesale pricing.

2. In this example, let's add wholesale as a tag (outlined in the screenshot below, but you can change the tag name to whatever you want).

Set up Volume Discounts for Individual Products
- From your Shopify admin, go to Apps and select the "Wholesale All In One" application

- From Wholesale All In One, go to the Volume Discounts tab and Click on "Create Volume Discount" button.

- Write a title for the discount rule and select 'Save as Published' option: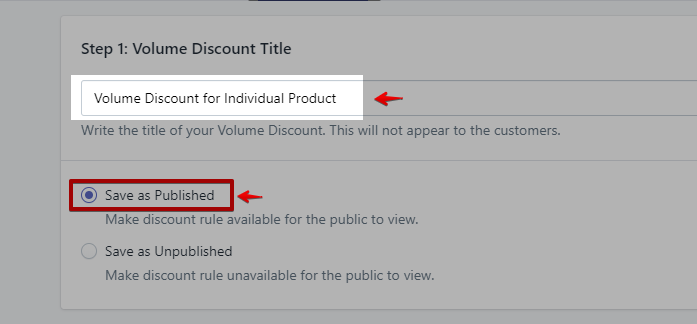 - Select the 'Specific Products' option from the 'Apply Discount To' Section:

- Select the 'Set Volume discount on individual products' checkbox and then add the 'wholesale' tag to apply Volume Discounts only for customers tagged with 'wholesale'.
[Note: You can add more tags if you want to apply different Tiered Pricing for different tagged customers]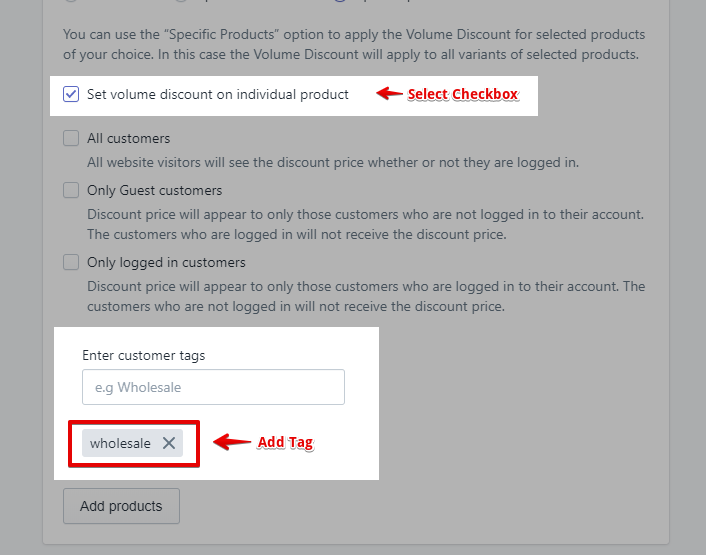 - Click the "Add Products" button and select products for which you want to apply Volume Discounts. The selected products will appear in the table below.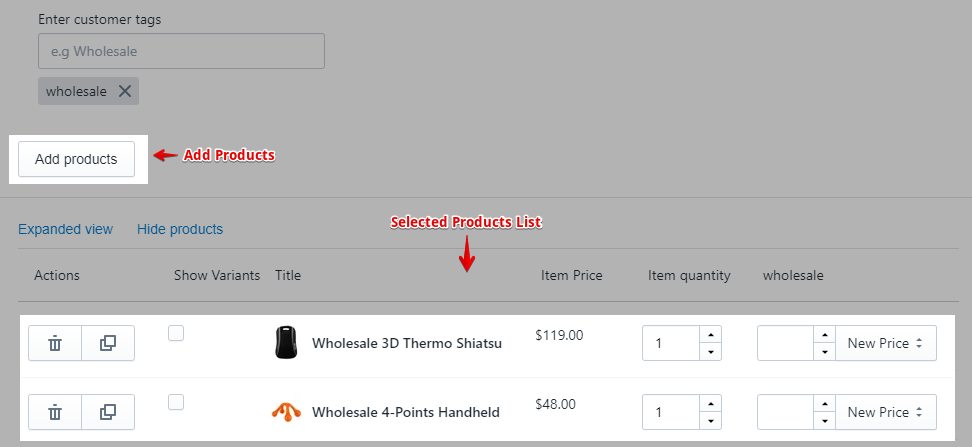 - Click the 'Duplicate Icon

' each time to add new 'Tiered Price' rule for the product.
- Set the 'Item Quantity' and "Discount Price' for each Tier separately in the 'wholesale' column, so only 'wholesale' tagged customers will see the Tiered pricing.
- There are three discount options '% Off', 'Price Off' and 'New Price. You can Learn More.
- See the animated screenshot bellow: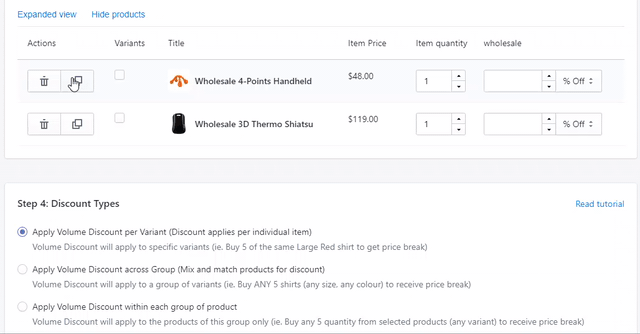 - By default, Volume Discounts apply based on total quantity of each variant separately in the cart. You can change the option according to your requirements. Learn more about Volume Discount Types.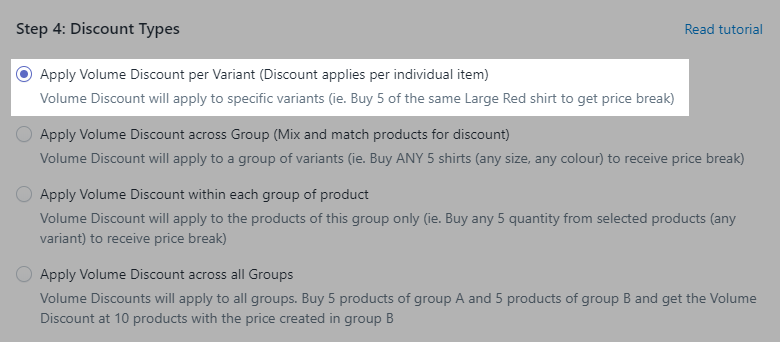 - You can set the time frame for the Volume Discount activation and expiration [Optional]
- You can select a different design for 'Tiered Pricing' table [Optional]
- Press "Save Volume Discount" rule:



Tutorial Result:
Login to the website with a 'wholesale' tagged customer and you will see Volume Discount pricing are showing up for the selected products. See the screenshots bellow.

Product One: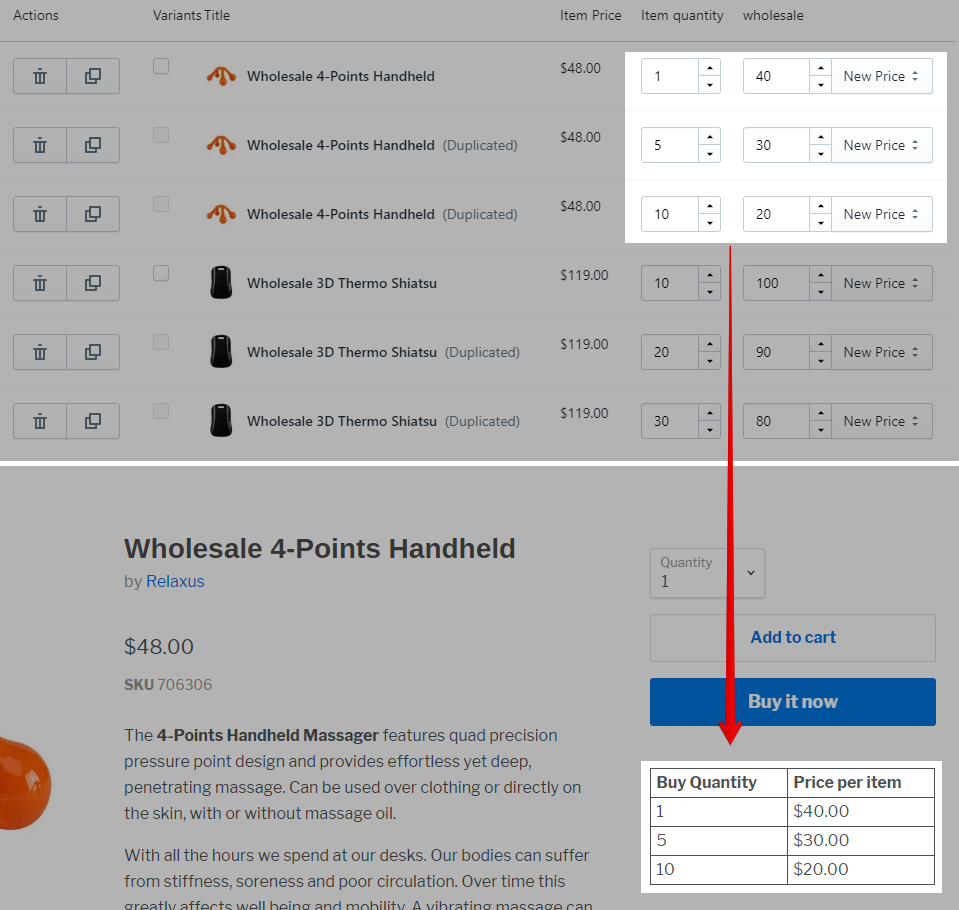 Product Two: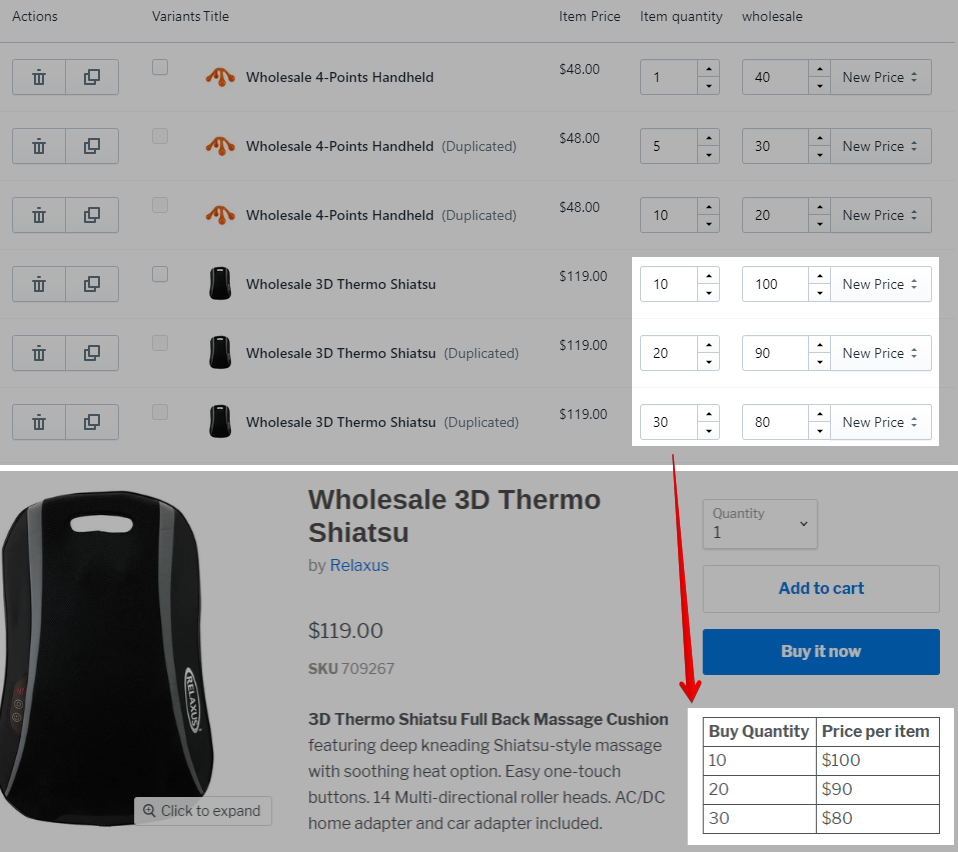 That's All.
If you're facing trouble to set up Volume Discounts, Please contact us.